The Essence Of Death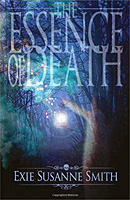 Travel with Exie Susanne Smith as she navigates deeper still into the world of the dead, into "The Essence Of Death." This journey will open your eyes and minds to wild new experiences and a world of possibilities.
"Together we will step out of our comfort zones, traverse the veil of vibrational energy and see what lies beyond in uncharted realms."
Her many years of experience with ghosts, spirits and spirit guides, has led her to where she is today. Join her as she takes the next essential steps on her life's path.
"It will be an other worldly adventure, when we the living, pay a visit on the dead!"
Buy The Essence of Death from Amazon.com : Exie Susanne Smith or contact the author directly to order!